Welcome to Jordan Ev. Lutheran Church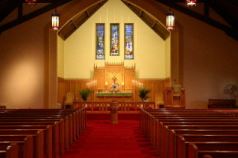 This is the Word of the Lord...
We will tell the next generation the
praiseworthy deeds of the Lord,
His power, and the wonders He has done.
Psalm 78:4
Mission Statement: Our church exists to glorify the Triune God by proclaiming the gospel of Jesus Christ to our families, our community, and the world.
Our Beliefs and Fellowship: Jordan Evangelical Lutheran Church has merged with Woodlawn and Good Shepherd's churches to form the now unified Living Hope Evangelical Lutheran Church. Our unified church is a member of the Wisconsin Evangelical Lutheran Synod. For more information about the WELS, please visit the wels.net website.